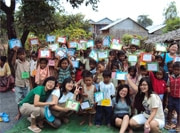 ACTSPEDITIONS
Where is the furthest you have ever traveled from Singapore? When was the last time you saw a wonder of the world close up? Want an experience that goes beyond just "wow"?
Then, Join us on an ACTSpeditions trip!
This is a unique, one-of-a-kind trip that will give you that out-of-the-world Experience. In Cambodia, Myanmar, Indonesia or other countries we have projects in, you will have a chance to have an experience beyond "wow" and a close up view of the wonders each country has to offer.
We will allow you to invest your life into the lives of the locals in the host country. More than that, we will immerse you in their life and culture as well.
A Holiday with a difference!
Generation ACTS Club International (S) (GACI) organizes 5-day Actspeditions program to Cambodia, Sabah and Laos.
Projects range from construction of sheds (village classrooms, playgrounds, purchasing of resources, etc.) for Phase 1 implementation of our ALIVE! program, implementation of the different aspects of our Kids Alive! program (Phase 2 of ALIVE!) and/or social enterprise projects that help Phase 1 and 2 of ALIVE! achieve their aims. You may visit our blog: www.actspeditions.wordpress.com for information on our past completed projects.
How much do I have to pay
1. Ranges from $400 to $550 (depending on project country)
2. Costs covered: On-site costs during project (i.e. accommodation, transport and food during project days)
3. Costs not covered: insurance, airport tax, personal expenses during Ru0026amp;R
4. A non-refunded deposit of $100 shall be collected upon sign up
5. Balance payment must be paid 1 month prior departure. Otherwise deposit would be forfeited and participant is deemed to not have secured a place for the trip
6. Cancellation: Participant must inform GACI in writing at least 1 month prior to departure of his/her decision to cancel or withdraw from the trip. Otherwise, he/she is liable to pay the entire sign-up fee. If withdrawal is made after sign-up and before 1 month prior departure, it is up to the discretion of GACI the amount that would be refunded to the participant.
Can I raise funds for my trip
Yes, you can. GACI will help you as much as it can for you to be able to do so. But do note the following:
1. All fund-raising for ACTSpeditions must be discussed with your designated club facilitator, who will in turn inform GACI, before the fund raising can take place.
2. Teams will raise funds in the name of GACI, and all funds collected will be administered by GACI and your designated club facilitator. Non-tax-exempt receipts may be issued upon request
3. Unused donations for projects shall be administered by the club for the same project or its equivalent
4. Prior permission must be sought from GACI for any information or photos extracted from GACI's publications or websites
5. Proper accounting and accountability by the ACTSpedtions team, together with your facilitator, is required for all the funds collected
What are the possible ways to do so?
1. Prepare a short and sweet explanation regarding the reasons for fundraising. GACI can issue a donation letter for you to explain to your potential donors.
2. Do something creative, such as selling something related to the host country or project to raise awareness
What if I want to donate some cash or items to the host organization?
1. Donations to the host organization shall be determined by GACI. Donations-in-kind are generally preferred over cash
2. For purchases of donations-in-kind, a receipt for the purchase is required
3. All donations to host shall be made in the name of GACI through your designated club facilitator. Please do not make any independent donations to the host organization without consulting your facilitator. You may also email us at contactus@gen-acts.org for more information.
So would I get the chance to go off the usual route?
Of course! Besides the cultural roadblock which will not only test your cultural and getting-around skills, it will also challenge you to do what you may never have done before. After each ACTSpeditions trip, we encourage participants to do some Ru0026amp;R in the country on their own, to take in the local sights and food.
So, what do I get from going on ACTSpeditions?
Arranged accommodation and food (according to itinerary) just for you
Worry-free transportation from place to place
Cultural immersion to get your started on the right foot
Cultural exchanges with locals
Helping the local hosts where it matters
Having a fulfilling time
Testing yourself in a cultural roadblock
Learning from an experienced facilitator
For more information on the work flow of a typical ACTSpeditions, please click here. If you are interested, please write to us.