ImpACTS is implemented in 3 countries in South America; namely,
ImpACTS Peru (Ventanilla, Zapallal)
ImpACTS Chile (Hogar de Cristo)
ImpACTS Ecuador (Remar)
Background of the different countries
Peru
Peru is the third largest country in South America, after Brazil and Argentina. It is a beautiful country, but where 15% of the population earns less than USD 1 per day and an estimated 70% of the population lies below the poverty line. (UNICEF Report 2000). Due to the poverty levels, many children and youths do not have access to quality education. In particular, many youths here do not have quality instruction in English, an international language that is essential for them if they are to participate in the emerging global economy.
Photograph 1: A typical shantytown in Pachacutec, where extreme poverty has prevented the children from receiving quality education and healthcare
A typical shantytown is made up of clusters of makeshift houses that would be home to huge families with up to ten children. It is evident that food rationing is the only recourse for these families, and this usually results in undernourished children. There is usually a lack of a proper sanitation system or clean water supply. This is accentuated by the lack of a decent healthcare system, resulting in many sicknesses among the children, who often fall asleep in the classes as a result of extreme hunger pangs. Those children who are able to attend any schooling at all are usually the beneficiaries of some Christian mission schools that are built in the shantytowns themselves. The teachers in these schools are generally local volunteers who are untrained as teachers, and who are unable to speak any English.
Many of the families in the shanty towns are dysfunctional. The majority of the children grow up in single-parent families (usually a single-mother environment). Due to the high level of English illiteracy among the single mothers, they are unable to help their children in the educational process. These single mothers are further constrained by their need to work long hours in order to raise their kids. According to the National Education Association of the United States of America, parental involvement is crucial to a child's educational development. The following are just some striking facts that are supported by scientific research and studies.
The family environment is critical for student achievement from pre-school to high school. A home environment that encourages learning is more important to student achievement than income, education level or cultural background. (Henderson and Berla)
When children and parents talk regularly about school, children perform better academically. (Aston u0026amp; McLanahan, 1991; Ho u0026amp; Willms, 1996; Finn, 1993) Three kinds of parental involvement at home are consistently associated with higher student achievement: actively organizing and monitoring a child's time, helping with homework and discussing school matters. (Finn, 1998)
Positive results of parental involvement in their children's schooling include improved achievement, reduced absenteeism, improved behavior, and restored confidence among parents in their children's schooling. (Institute for Responsive Education. The Home-School Connection: Selected Partnership Programs in Large Cities. Boston: Author.)
Given these facts, it is no wonder that the children in the shanty towns are performing badly in their educational progress, given the little attention that their parents pay to their education. We believe that a program to improve the educational level of the children, in this case the teaching of English, would necessarily require the involvement of the parents / guardians / volunteer leaders as well. Accordingly, we saw the need to design an English learning project that integrates teaching English to both the parents and the children*, and getting the parents to interact with their children over the week regarding the English lessons that they have gone through respectively in their classes for that particular week. At the same time, accelerated learning methodologies and educational kinesiology are employed to maximize the learning experience.
Photograph 2: Some local teachers from a school in our last project at Pachacutec receiving English lessons from volunteers from Generation ACTS Club International (Peru).
Chile
Ecuador
Objectives and Evaluation
Objectives and description of the projects
Evaluation tools
Objectives and description of the projects
In view of the aforesaid problems, Generation ACTS Club International (Singapore) decided to set up a project in Peru named ImpACTS Peru (Ventanilla, Zapallal) with a community of orphans and abandoned children in a shantytown in Ventanilla, whose name is La Familia Sagrada, a project in Chile named ImpACTS Chile with a non-profit, non-government organization in Chile called Hogar de Cristo, and a project in Ecuador named ImpACTS Ecuador (Remar) with a not-for-profit foundation (known as Remar) in Quito, which runs a school that offers free education to children who are either abandoned or come from very poor families.
The main objectives of the projects are twofold: to impart good moral values to the children and to provide free and quality English education (employing the latest learning strategies) to the children in the school. We believe in providing a holistic education that is able to creatively and effectively integrate the affective, behavioral and cognitive models of learning. At the same time, free English classes are also given to the parents of these children (usually single mothers). The parents are then encouraged to go through some of the lessons together with their children, and to discuss with their children over some of the topics that have been taught over the week. Essentially, drawing upon the principle that parental involvement is a critical element towards the learning capacity of the child, and also with the aim of providing some motivation to the parents to put in effort in their learning of the English language, we have integrated the English learning project so as to ensure that the parents get to interact meaningfully with their children over the week.
Photograph 6: Mision Integral, a school at the shantytown in Pachacutec, where volunteers of Generation ACTS Club International (Peru) are sent to teach English
Photograph 7: At Casa Abierto of Hogar de Cristo, where volunteers of Generation ACTS Club International (Chile) are sent to teach English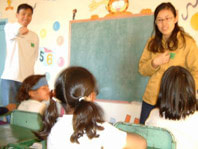 Photograph 8: At the Remar school, where volunteers of Generation ACTS Club International (Ecuador) are sent to teach English
The volunteers from Generation ACTS Club International who teach at the various schools are mainly native speakers of English from Singapore who have taken a break from their professional careers in Singapore to engage in unpaid volunteerism in Peru, Chile and Ecuador. Every Saturday morning, the volunteers in Peru would travel down to these places, which are sometimes 2 hours away, to deliver English classes to a bunch of about 20 to 30 children, whose ages range from 6 to 8 years old. Meanwhile, their fellow volunteers in Chile would travel down to Renca to deliver English classes to a bunch of about 20 to 30 children, whose ages range from 9 to 14 years old, while those in Ecuador would travel to down to Remar to deliver English classes to a bunch of about 20 children, whose ages range from 5 to 12 years old.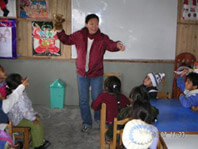 Photograph 9: A volunteer in action with the kids in Peru and looking very enthusiastic!
Photograph 10: "Konica" with some of the children in Renca!
We hope to improve the level of English of these kids to a level where they would be able to carry out an English conversation with one another, and where they would be able to attend our various Life Skills Seminars / Accelerated Learning Workshops which would be conducted in English. The materials that we use for the English classes are taken from the best textbooks available, as it is our goal to provide the kids with free English education of the highest quality.
In order to ensure that good values are passed on to the children, we have a strict screening process to ensure that all the volunteers demonstrate integrity in their character. We also use a system of carrot and stick to motivate the kids. When they demonstrate good character values such as diligence in doing their homework, we give out rewards to them, which includes an entrance ticket to the quarterly parties for the kids, or an opportunity to go our for the various outdoor picnics or excursions that we organize quarterly. On the other hand, the kids who persistently refuse to do their homework or turn up for classes, and who are disrespectful to the teachers, are barred from attending the parties or excursions as a form of disciplinary action.
The expected duration for these projects is 2.5 – 3 years.
Evaluation tools
ImpACTS Peru
ImpACTS Ecuador
ImpACTS Peru
It wasn't easy waking up early every Saturday morning after a long tedious week of hard work. The 1-hour ride to the shanty towns did not make things any easier, no thanks to the badly-constructed roads filled with pot-holes on the way there.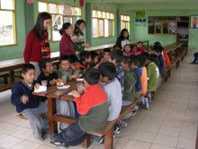 Rewarding our English class students in an abandoned children's home in Zapallal with a big hearty breakfast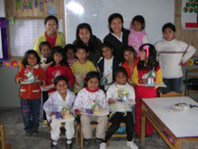 Awarding prizes to the best students in our English class in a shanty town school in Pachacutec, Year:2005
However, when we finally made it to the shanty towns, we would always be greeted with warm hugs and kisses from our 'kids'. Suddenly, all signs of weariness were gone and we were charged up again to give another session of English class to our bunch of eager-to-learn kids. We drilled them with basic English greetings and thrilled them with English songs. It was always a joyous occasion whenever we threw a party for the kids who stayed through the whole course and rewarded the best students with prizes.
Victor
At first sight sight, Victor looks 15 years old, but he is only 12 years old. This is a result of a harsh life on such a young life.
Victor is the youngest in a family of 5 siblings. He lives in a shanty town and has to work since young. Besides helping his parents in odd jobs, he goes to the street to help clean cars, and earns S/.5 a day for 6 hours of work.
Victor is one of the students who attends our ImpACTS project. In this project we worked with the Monthoc School (which provides free education for street kids like Victor), and every Saturday morning we give them free English classes.
Initially, Victor stood out amongst the rest of the students for his loud, impulsive nature. As weeks progressed, he stood out even more because of his 100% attendance, and consistency in doing his homework. Like most of his classmates, there were many saturdays when it was difficult to come to class due to demands at home (many of them have to work on Saturday to earn a penny for their families), but Victor chose to come and study, then go and work in the afternoon.
Slowly, Victor also showed us his caring side. He'd hold our hands and walk us to take our car back home after class. Near the end of the course, his principal told us that his teachers in school had commented that they saw a drastic change in Victor. He is no longer the rude, lazy or disrespectful Victor he used to be; he has changed to become more responsible, hardworking, and courteous. As the principal thanked us for making a difference in Victor's life, we know that the sacrifice of coming every Saturday faithfully has produced its fruit.
Team Peru- Julian, Serene, Ailay, Delia, Terry.
ImpACTS Ecuador