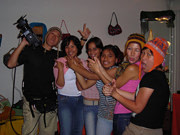 YES! (Young Entrepreneurs Scheme) for Education is a sub-project of Youth ALIVE! and is executed depending on local conditions and readiness of our local youth club.
The project involves teams of youths who work together to engage in a mini business, where proceeds from these mini businesses would go directly towards an education fund for themselves. Youths will have to learn and employ all the skills – the same skills required by any business enterprise – to achieve success and profit the fund. Such a project will also inculcate good intrapersonal values among the participating youths. Some of these mini businesses are small chicken farms, sale of products, small hydroponic farms, etc.
GACI welcomes and works with professionals who can volunteer their time towards developing and training the youths in the relevant business and life skills. Some can even volunteer themselves as mentors, guides and advisors either throughout the project or at various stages of the project.
OBJECTIVES
To inculcate the values of intrapersonal and interpersonal management among the participating youths
To foster greater creativity within a business context for the participating youths
To encourage the values of entrepreneurship and enterprise among the participating youths