Public Speaking – Nov 2006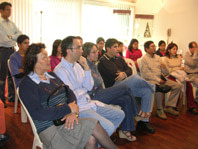 As mentioned earlier, one of the main objectives in Youth ALIVE! is to educate and develop life skills in our youths. That includes public speaking.
They accepted their first challenge in Nov 2006 to present our YES! project to professionals who are double or even triple their age, not to mention who have much more life experience than they do. To everyone s surprise, they aced the task with flying colors, showing professionalism beyond their young age. Even the adults who were there commented on how well these youths presented. Their objectives were clear, their voices were confident and their conviction was strong. They even got the adult professionals to chip in their part by giving suggestions on how to execute the project successfully. We are so proud of them!
Project "Little Hands"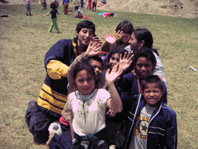 Project "Little Hands" was carried out in 2005 with the aim of inculcating altruistic values in our youths. They took turns to travel to a faraway shanty town in Zapallal every Saturday morning just to be able to help the needy kids learn English and organize activities to make the little ones happy. Many of these kids are orphans or abandoned children. The weekly journey was tiring but the youths kept going on, motivated by the altruistic seed in them as they witnessed the harsh reality of life through these kids.
The year ended with a big bang in December, when we organized a Christmas party for the kids who had put in consistent effort to learn English for the whole year.
My ACTSperience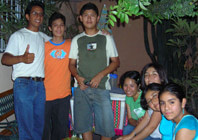 Hi, I am Oscar. Generation ACTS Youth International (GAYI) gives me the opportunity to share my time every weekend, as a Math and English teacher volunteer, with teenagers who are weak in Math/English but lack the financial resources to pay for private classes.
These youths come from poorer families and attend schools with poor education level. It feels good to be able to play a small part in supporting their education by giving them free classes. Currently, I'm also involved in counseling them and supervisory roles in the club.
At the same time, GAYI allows me to meet other professionals who are volunteers in the club too. They encourage me to embrace the same vision and belief that "our youths can make a big difference in Peru".
The work atmosphere in GAYI is as if you were in a very united family because all the volunteers support each other and are always thinking of ways to improve our work with the youths. The youths, in turn, look up to us as an older brother or father who demands only the best results from them. We spend meaningful time together every weekend, talking, playing and we often celebrate special occasions over great Peruvian or Singaporean food! J
Oscar Alberto Collantes Veliz, 33, GAYI volunteer, Bilingual Math Teacher