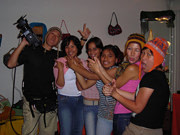 S.E.E.D (Social Enterprise for Education Development) PROGRAM
"To see things in the seed, that is genius." Lao Tzu
S.E.E.D. is a program that oversees the startup and development of sustainable social enterprises which provide jobs and entrepreneurial training to low-income youths. It aims to confront social imbalances by providing low-income youths with career opportunities and training that would normally not be opened to them. Like dormant seeds longing to sprout, we work with youths often overlooked by society but whom we know have the potential to break out of their poverty cycles. S.E.E.D. strives to provide the conditions and training that will develop these youths to their fullest potential.
S.E.E.D. aims to create social enterprises where our youths can:
1. Inculcate intrapersonal and interpersonal values
2. Build business creativity
3. Be encouraged in entrepreneurship and enterprise know-how
4. Create education funds for themselves
5. Be meaningfully employed after they finish education
S.E.E.D. creates social enterprises that offer more than just employment; it provides SKILLS, VALUES, HOPE, and OPPORTUNITIES.
Currently, we have a social enterprise in Cambodia called HopeBods. HopeBods is a joint venture between GACI and ACTSPAND Pte Ltd's superfoods brand, Nature's Superfoods. This project seeks to provide jobs and training to low-income Cambodian youths through the main business of retailing imported high quality superfoods. In 2014, we also started a cafe called LoveSG Cafe (https://www.facebook.com/Lovesgcafe) as another social enterprise project.
If you would like to be part of our mission, we invite you to volunteer your time towards developing and training the youths in the relevant business and life skills. Volunteers with expertise in entrepreneurship, sales and marketing or other relevant business-related skills are welcomed. You can also volunteer as mentors, guides and advisors to help the youths in their journey as budding entrepreneurs. You can also share with us your business networks and help us in any other way to make S.E.E.D a success.
Please contact us here if you are interested to play a part in changing lives through our S.E.E.D. social enterprises.